6 October 2020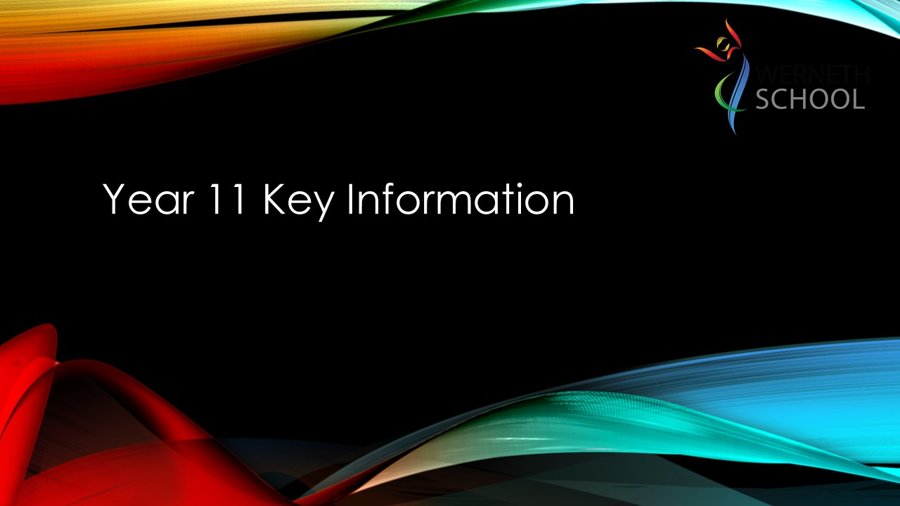 5th October 2020

Dear Parent / Carer
Year 11 Key Information
We are writing to inform you of a variety of updates regarding Year 11. Firstly, we would like to congratulate Year 11 for the excellent start they have made back this term; it has undoubtedly been a unique time and they have embraced the year ahead with a real purpose, focus and motivation.
Year 11 Parents' Evening - this term will take on a different format. This is due to the current climate and for us all to take the necessary safety precautions. We recognise this is a key year for your child and you will be keen to speak to a variety of teachers. We are still hoping to hold a Parents' Consultation Evening in school in January. Your child's form tutor (details below) will make contact with you on the week beginning 19th October via phone call (or email if they are unable to make contact with you) with an overview to the start of the year your child has made. If you wish to speak to their specific subject teachers please let the form tutor know as they will note this down. The teachers will be informed and they will then contact you the following week. If you think your contact details may be outdated please contact us to update them (email addresses below).
Year 11 Exam Information - changes have been made to the format of some exams in some subjects. All of the updated information from Subject Leaders is available on the school website. You are able to find this under the tab School Life > Year 11 Information. Alongside this, there are a wealth of materials on revision resources for each subject, how to create a revision timetable and strategies for effective revision. Attached too in this letter is the revision calendar for the year. Revision sessions run from 3:10 - 4:10pm. It is vital that every Year 11 student takes advantage of the revision sessions on offer to supplement the work in school.
Year 11 Mock Exams - it is essential these still take place so we are able to gain accurate and updated information on your child's progress. These will be running from the week commencing 23rd November for two weeks. We hope to discuss their results in detail with you in the January Parents' evening.
Post-16 Options - unfortunately we were unable to run this event in school with all local colleges and apprenticeship providers that come in the evening for you and your child to discuss future pathways. We have however collated all of the information from local colleges, including presentations, key contacts and dates for applications and added them to our website. We have shown your child in a virtual assembly how to access this; you are able to find this on the blue pop up on the home screen of the website. In addition to this, students have received a live virtual assembly from the National Apprenticeship Service informing them of all of the options available to them. This presentation video is available too on the website in this area.
Careers interviews - these have been up and running for several weeks. Each student in Year 11 will receive an appointment with our expert Careers Advisor to discuss their future options and help guide them to the information they may need.
Form time college applications - we recognise this is a stressful time for students to apply for colleges. To make it easier, each form has a dedicated week of form time in a computer room to apply for colleges and create their personal statements. Each week too tutors are showing short videos of the types of industries they may want to enter in the future so they're able to make informed choices about their options.
Remote learning - if your child has had to isolate you may have seen already all of the information we have provided regarding their learning. There is a wealth of work for them to complete online via Google Classroom. Each Year 11 student has been shown this via assembly or in an English lesson so they are familiar with the format should they need to isolate. All of the information on this, including a step by step video guide can be found on the website under the tab Key Information > Remote Learning. Should you be having any difficulties with technology and need paper copies of work sending home please email lauren.taylor@wernethschool.com and work can be arranged to be posted or collected.
We want to thank Year 11 again on their successful start and we look forward to a positive year with them.
If you have any questions or queries regarding any of the above information, please do not hesitate to contact us.
Yours faithfully,
Mrs S Barnard - Year Inclusion Manager - sarah.barnard@wernethschool.com
Mrs L Taylor - Year Achievement Manager - lauren.taylor@wernethschool.com
Mrs R Chantler - Assistant Headteacher - rhiannon.chantler@wernerthschool.com
Form Tutors
11W - Amelia Elder - amelia.elder@wernethschool.com
11W - Karen Kiernan - karen.kiernan@wernethschool.com
11E - A Puller - amy.pullar@wernethschool.com
11R - Richard Astles - richard.astles@wernethschool.com
11N - Rafael Babar - rafael.babar@wernethschool.com
11T - Tracy-Anne Birds - tracy-anne.birds@wernethschool.com
11H - Stuart McKeown - stuart.mckeown@wernethschool.com
11S - Tracy Sloane - tracy.sloane@wernethschool.com
11C - James McKenna - james.mckenna@wernethschool.com
11O - Sarah Higham - sarah.higham@wernethschool.com
11- JMC Joanne Mclaughlin - Joanne.McLaughlin@wernethschool.com
11 - HMC - Holly McClaren - holly.mclaren@wernethschool.com
11EBE - Eleanor Bennett - eleanor.bennett@wernethschool.com
11EBE - Jessica Black - jessica.black@wernethschool.com