16 February 2023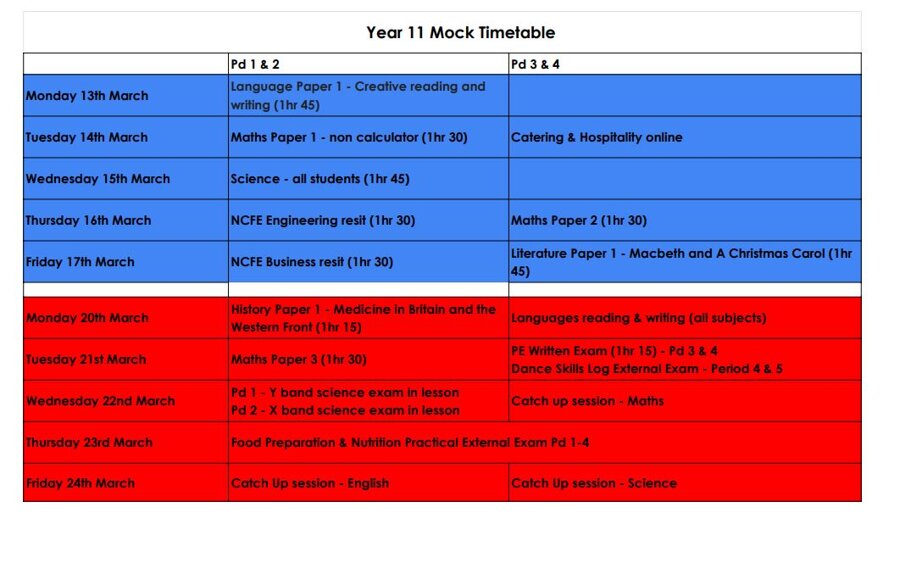 Dear Parent / Carer
Our next set of Mock exams start on March 13th and will continue until the 24th March. Students have been sent a timetable and a copy is attached for your reference. Should your child be unable to attend due to illness, please ensure you contact the school office as soon as possible on the day so arrangements can be made for a catch up exam to be scheduled.
With regards to exams, we wanted to take this opportunity to let you know that GCSE summer exams will run from the 15th May (languages speaking tests will take place before this date) through to the end of June.
Dance and Drama external exams are now taking place and will continue through to Friday 5th May. This is an external assessment which will take place during lessons. It is therefore extremely important that students attend all lessons. Exam content must be completed under exam conditions and therefore cannot be completed at home. Specific completion dates for exam components will be confirmed by your child's teacher.
Students MUST remain available to sit exams up to and including the 28th June 2023. If there is local or national disruption that prevents an exam taking place an exam could be rescheduled up to and including the 28th June.
The Exams regulator the JCQ states: "if students are not available because they are on holiday and one of their exams is rescheduled, they will not be eligible for special consideration by the exam boards. For this reason, the JCQ requests all schools inform parents and students of this date so that it can be taken into account when making plans for the summer.
Awarding Body Rules and Regulations
The Exam Boards used by Werneth school follow the regulations set out by the Joint Council for Qualifications (JCQ).
Students are advised to ensure that they are aware of the JCQ regulations so that they have a fair and even chance to complete every examination with confidence.
During examinations our invigilators are instructed to record and report any unfair practice or behaviour, such as talking, borrowing someone else's equipment and any communication that may occur. The Exams Officer is required to report any such incidents to the Exam Board immediately.
Electronic equipment of any type, along with ALL watches are NOT ALLOWED in the examination room. Failure to follow the rules will usually result in disqualification from one or more examination subjects.
Revision
You can find revision information on our website using this link https://sites.google.com/wernethschool.com/year-11-revision/home
Further information can also be found on our main school website
https://www.wernethschool.com/staff-students/exam-information
Useful Information
Exam Boards
AQA (GCSE) - English, Science, Languages, PE, Art, Photography, Sculpture, Graphics, RE and Further Maths
https://www.aqa.org.uk/qualifications
Edexcel (GCSE & Btec) - Maths, Computer Science, History, Dance, Drama and ICT
https://qualifications.pearson.com/en/qualifications.html
OCR - Geography & Music
Cambridge National - Child Care and Development
https://www.ocr.org.uk/qualifications/cambridge-nationals/
WJEC / Eduqas - Hospitality & Catering, Food Preparation & Nutrition and Media
VTCT - Hair & Beauty Therapy
NCFE - Engineering and Business Studies
You can find full details of the GCSE courses and syllabus on the exam board websites using the links above.
Mock Exam Timetable